Access Sacramento & Sierra Donor Services Discuss Organ, Eye, and Tissue Donation
June 2, 2023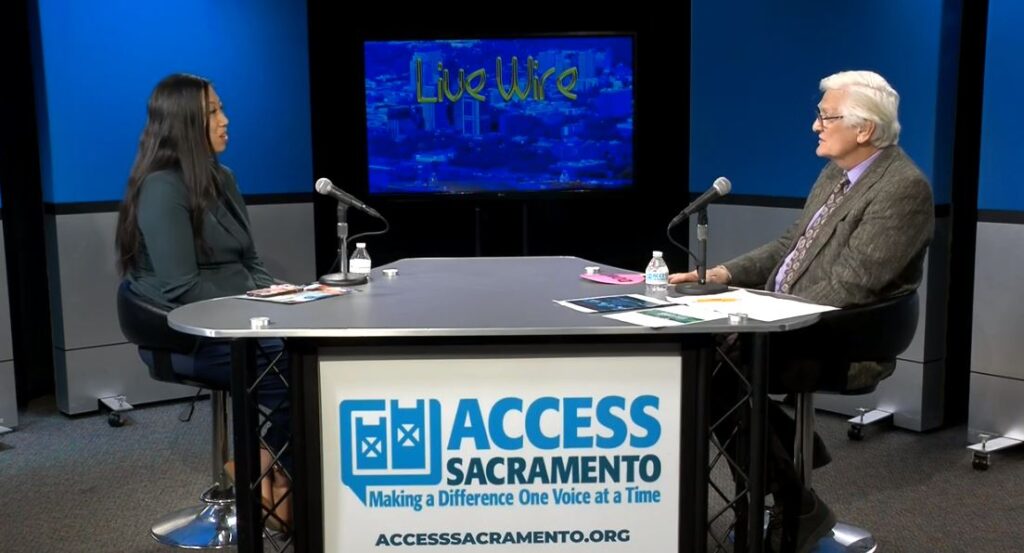 (Left) Sierra Donor Services External Affairs Director, Kyla Aquino-Irving (Right) Access Sacramento Host, Ray Tatar
Access Sacramento, a nonprofit public access station, has long been providing a platform for various communities in Sacramento to express their thoughts and opinions. Recently, they spoke to Kyla Aquino-Irving, the External Affairs Director at Sierra Donor Services, about the need for organ, eye, and tissue donation. With over 100,000 people waiting nationwide for a transplant, and over 20,000 waiting in California alone, the need for individuals to register as donors has never been greater.
The Disparities in Organ Transplantation Amongst Communities of Color
According to Aquino-Irving, there is a significant gap between communities of color and non-communities of color when it comes to organ donation and transplant. Communities of color, particularly African Americans, Hispanics, and Asians, have a higher need for organ transplants due to higher incidences of diseases such as diabetes and hypertension. Currently, people of color make up 79% of the transplant waiting list in California, and unfortunately, these communities have lower rates of donation and are less likely to receive organ transplants than their white counterparts. This is due to several factors, including a lack of education about organ donation, distrust of the healthcare system, cultural and religious beliefs, but most of all, fear.
Click here for more information on the disparities in organ transplantation amongst communities of color.
Debunking Misconceptions & Myths on Donation
Kyla spoke to the common misconceptions and myths surrounding fears of donation. Addressing a common misconception that doctors and first responders may not work as hard to save their lives if they know they are an organ donor, Kyla stated that this is far from the truth. She went on to address the misconception that those who choose to go forward with donation after death cannot have an open casket funeral, which is actually possible if that is what the donor and their family choose.
Many individuals may not have access to proper information about organ donation or may opt-out due to mistrust of the healthcare system, which is why organizations like Sierra Donor Services work to implement and develop organ, eye, and tissue donation education and outreach programs that account for cultural differences to help address these barriers to donation among communities of color.
The Importance of Discussing Organ Donation with Family Members
Kyla recently spoke about the crucial need not only to encourage people to become organ, eye, and tissue donors, but also to have conversations with their family members about their decision. This is especially important for potential donors who are under the age of 18. In such instances, the family's consent is required for donation to proceed.
She went on to share the story of her friend Sonja Lewis, who passed away three days after the parents of her potential donor rescinded their decision to donate their organs.
This excerpt is just a small portion of Kyla's interview with Access Sacramento regarding the pressing need for organ, eye, and tissue donors in our community.
If you would like to learn more about this topic, click here for the full interview.
Click here to become an organ, eye and tissue donor today.
About Sierra Donor Services
Sierra Donor Services (SDS) serves nearly three million people in Northern California and Northern Nevada. We are an exceptional team of professionals dedicated to saving and improving lives by connecting organ and tissue donation to the patients who need them. We strive to extend the reach of each generous donor's gift to those who are always profoundly grateful for them.