Donate Life California Legislative Day
May 30, 2023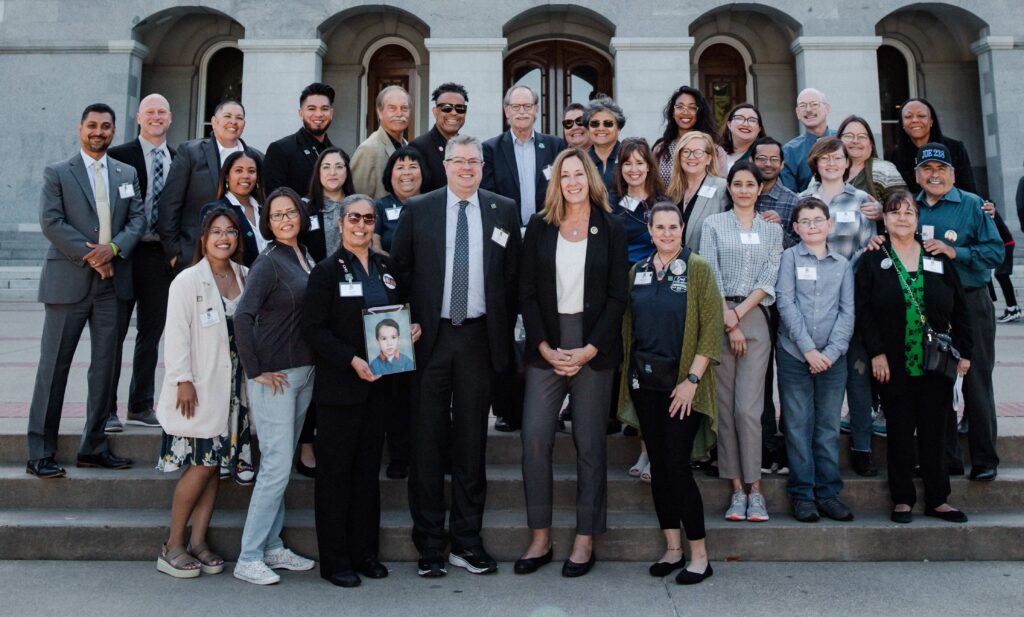 Senator Irwin and Donate Life California staff pictured with Sierra Donor Services Staff and Ambassadors along with Staff and Ambassadors from Donor Network West, Lifesharing, and One Legacy.
Organ donation is a critical issue that impacts many people across the United States. Every year, thousands of people die while waiting for an organ transplant. However, by increasing awareness and promoting organ donation, we can help save more lives. Sierra Donor Services was proud to join Lifesharing, OneLegacy, and Donor Network West in advocating for two bills aimed at increasing the number of registered donors during Donate Life California's annual Legislative Day. The event gave our staff and ambassadors the opportunity to raise awareness and support for organ donation in California.
AB 503 (Carrillo) Health care: Organ Donation Enrollment
AB 503 is a bill that requires the single application for insurance affordability programs such as Medi-Cal and Covered California to include a space for applicants to enroll in the California Organ and Tissue Donor Registry. The questions asking applicants if they would like to enroll will be limited to the online application and will be optional and not a required part of the application.
This bill is crucial as it makes it easier for people to enroll in the registry, and the online option is the most common pathway for enrollment. By adding a space to the application, Californians can easily sign up to be an organ donor and help save lives.
AB 1268 (Irwin) Franchise Tax Board: Organ Donor Elections and Data Sharing
AB 1268 is a bill that would require the Franchise Tax Board to revise the California resident income tax return to include a checkbox for an individual taxpayer who self-prepares the taxpayer's return to elect to be an organ donor with the California Organ and Tissue Donor Registry. The Franchise Tax Board would then have to annually send that information to the registry with respect to an individual taxpayer who has elected to be an organ donor.
This bill also makes it easier for Californians to enroll as organ donors by including a checkbox on the state income tax return. The Franchise Tax Board's assistance in sending the information to California Organ and Tissue Donor Registry is also crucial in maintaining an accurate and updated registry.
Our Hope
Sierra Donor Services is proud to have participated in Donate Life California's annual Legislative Day and to advocate for AB 503 and AB 1268. With these bills, we can increase awareness and enrollment in the California Donor Registry . We hope that the California legislature will pass these bills and help us save more lives through organ donation. Remember, becoming an organ donor is a selfless act that can help save someone's life. Let's work together to make a positive impact on our communities.
About Sierra Donor Services
Sierra Donor Services (SDS) serves nearly three million people in Northern California and Northern Nevada. We are an exceptional team of professionals dedicated to saving and improving lives by connecting organ and tissue donation to the patients who need them. We strive to extend the reach of each generous donor's gift to those who are always profoundly grateful for them.